Welcome to North Lake College!
We are Christians on Campus, a group of Christians who love God and His word and getting together for fellowship. We invite you to get involved with our club!
We do a lot of things together: weekly Bible study on campus, Healthy Words Ministry Series (plus dinner!) on Thursday nights, a scavenger hunt and hot chocolate (or boba) social at the beginning of each semester, Campus connect with other Christian clubs, daily Bible reading challenge (the whole New Testament in a year), small group Bible studies, Gospel outreach, Weekend College conference… so a lot!!!
We welcome to join us as much as you can!
We really love to read the Bible. It is the source of our fellowship and spiritual supply and God's speaking to us. Every year we try to read the whole New Testament as a club: Matthew to Acts in the Fall, and Romans to Revelation in the Spring.
To get into this habit we're starting Gospel of John reading challenges for the North Lake Orientees. We're giving away pocket sized Gospel of Johns and have a challenge to read the 21 chapters in 21 days.
The rules of the Challenge are as follows:
1. Read a chapter of the Gospel of John each day. Begin the day after your orientation.
2. Don't read ahead too much, or cram to catch up too much.
3. Connect with a partner. What you see from your reading will be a real encouragement to them!
4. Read slowly, carefully, and prayerfully, and expect the Lord to speak to you through His word.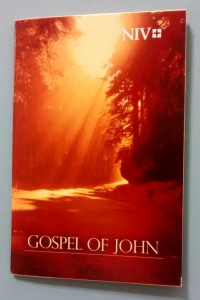 Thanks for visiting our website!