Tonight we'll begin our "Healthy Words" series. Healthy Words is a ministry series designed to encourage and promote the growth of our Christian faith. We all need to be ones hearing and speaking healthy words!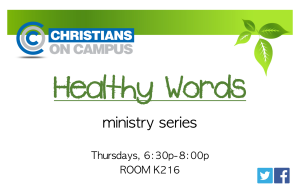 We'll begin at 6:30pm for dinner, then have a time of sharing and small groups between 7pm and 7:45pm, and then dessert. We want to be done by 8pm.
It will be in room K216 (down the hallway next to Subway). We hope you all can make it!